Profiles
Want a profile? Email a brief bio and image to manchustudiesgroup@gmail.com
Elif Akçetin
Elif Ak
çetin received her PhD from the University of Washington, Seattle. She was a postdoctoral associate and lecturer in East Asian studies at Yale University in 2008-9 . Her research focuses on the social and cultural history of China in the eighteenth century, with particular interests in material culture, literati culture and Manjuristics. She is currently a visiting assistant professor at the University of Illinois at Chicago 
Peter Dekker
Peter Dekker is a collector and independent researcher of Qing dynasty arms and armor, most notably Manchu archery related gear. His approach goes from researching period accounts, texts and artwork to studying antique artifacts, reproducing and testing Manchu archery equipment. As an archer Peter is currently reconstructing the Manchu military style of archery, the height of his research so far being the encounter with Ku Ku of the Tunggiya clan (daughter of the illustrious martial artist Tong Zhongyi), who is the last known formally trained Manchu archer alive who expressed to him: "There is hope." Peter's website dedicated to Manchu archery: 
www.manchuarchery.org
Mark Elliott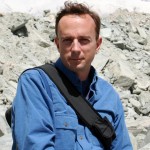 Mark Elliott (PhD, UC Berkeley) is the Mark Schwartz Professor of Chinese and Inner Asian History in the Department of East Asian Languages and Civilizations at Harvard University, where among other things he teaches courses in Manchu and Manchu studies. He is the author of two books, The Manchu Way (Stanford, 2001), and Emperor Qianlong: Son of Heaven, Man of the World (Longman, 2009), along with numerous articles exploring various aspects of Manchu history and Manchu-language archives. His most recent article, "Guanyu xin Qingshi de jige wenti" "关于新清史的几个问题", appeared in Qingdai zhengzhi yu guojia rentong 《清代政治与国家认 同》(Beijing: Renmin daxue, 2012).
Devin Fitzgerald
Devin Fitz
gerald is a PhD candidate in History and East Asian Languages at Harvard University. His primary research focuses on different forms of intercultural communication in the early modern period. His dissertation will be a study of the cultural and intellectual history of the Ming-Qing conflict from a global perspective. He is the webmaster for MSG as well as a staff writer for The Ultimate History Project. Visit his academic profile here.
Loretta Kim
Loretta E.
Kim (PhD, Harvard) is assistant professor of history at Hong Kong Baptist University. Her principal research interests are the early modern history of Northeast Asia, particularly the greater Amur River region, the northeastern and northwestern frontiers of China, and inter-East Asian social and cultural relations. Her recent teaching work includes courses in modern Chinese history, modern Asian history, ethno-history, and historical method and practice. Since 2011, she has also led an extracurricular Manchu course for undergraduate and graduate students in Hong Kong.
Carla Nappi
Carla Nappi (PhD, Princeton) is the Canada Research Chair of Early Modern Studies and an Assistant Professor of History at the University of British Columbia. She works in the history of China, of science and medicine, and of early modern translation. She is interested in the translation among words, things, and bodies, and she tends to worry about epistemic and textual architecture and the objects that emerge from it. You can also find her hosting New Books in East Asian Studies and co-hosting New Books in Science, Technology, and Society. Visit her websites http://carlanappi.com/ and http://www.history.ubc.ca/people/carla-nappi
Yuanyuan Qiu 邱源媛
Q
IU Yuanyuan earned a PhD from Chinese Academy of Social Sciences in 2006. She began to learn and use Manchu from 2003. Her main research fields are the court rites and music of the Qing Dynasty, the Eight Banner system and Bannermen society of North China. Her representative works are The Court Rites and Music during the Early Qing《清前期宫廷礼乐研究》(Social Sciences Academic Press, 2012), "Household Registration Booklets of the Estate Stewards under the Imperial Household Department: Population Registers and Genealogies."《清代内务府庄头户口册:丁册与家谱》(Survival Strategies of the Family in East Asia, Kyujanggak Institute for Korean Studies, 2012.)
Mårten Söderblom Saarela
Må
rten Söderblom Saarela is a Ph.D. candidate in the East Asian Studies department at Princeton University. His research interests include the history of scholarship in the Qing empire (1644–1911). He is working on a dissertation on lexicography and phonology in China's long eighteenth century, looking primarily at Manchu dictionaries and Manchu-inspired theoretical treatises on language.
View his Personal website here.
Yulian Wu
Yulian Wu received her BA and MA from the Department of Chinese Literature and Language in Nanjing University, China, and earned her PhD from the History Department at University of California, Davis in 2012. She is a postdoctoral fellow at the Center for East Asian Studies at Stanford University from 2012-2013 and is an assistant professor at the History Department of University of South Carolina. Her dissertation adopts the perspective from scholarship on material culture to study Huizhou salt merchants in 18th-century China. Her current project studies the production and consumption of jade objects during the High Qing era. As a gender historian, Yulian also studies widow chastity cult, women's writing, and masculinity in the Qing dynasty.
 Huanxi Zhao 赵寰熹
Huanxi Z
hao is an Assistant Professor at the College of Resource Environment and Tourism, Capital Normal University, Beijing, China. She received her Ph.D. in Historical Geography from Peking University. Her research interests include Historical geography, Beijing Studies, and Manchu studies. She has published a number of articles including "On the Influence of Ethnic Language on the Research into Historical Culture and Geographical Names" and "Discussion on the Affair and Effect of the Migration of Banner People from the Inner City in Kangxi Period", Journal of Chinese Historical Geography."