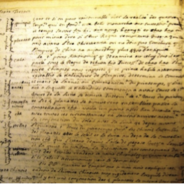 Mario Cams Ph.D. Candidate KU Leuven Like some of the other missionaries at the Qing court in the early 18th century, the French Jesuit Joseph-Anne-Marie de Moyriac de Mailla (1669-1748) studied both Chinese and Manchu.  He is said to have started studying Manchu rather late in life, at the age of fifty.[1] Soon after, he started translating into French large parts of the Han-i araha tung giyan g'ang mu bithe, a Manchu-language translation and revision of the Tongjian gangmu 通鉴纲目 ("Outline and detail of the...
read more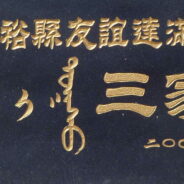 Two news items from the past year, linked below, suggest that with the oft-reported demise of the last "native speakers" of Manchu in Heilongjiang, new attention is being brought to the problem of training a new generation of Manchu specialists in China.  In one article, senior figures in the field such as Wu Yuanfeng 吴元丰 and Guan Jialu 关嘉禄 are quoted as saying that there is a serious shortage of younger people being groomed to take over the work of collating, organizing, and publishing Manchu-language archives from...
read more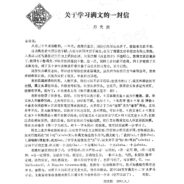 Zheng Tianting 关于学习满文的一封信 Zheng Tianting 鄭天挺 (1899-1981), one of the great 20th-c. historians of the Qing, was the author of a number of important early works on early Qing history, of which 《探微集》is probably the most famous.   Shown here is a letter he wrote in 1962 to a colleague in the Nankai History Department, Xia Jiajun 夏家駿, who had written to ask about the utility of Manchu for research.  He writes in part, "Before, when I was at Peking U. teaching Qing history [between 1930 and 1937],...
read more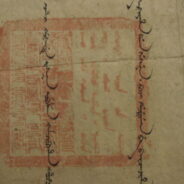 The publication of Jerry Norman's A Comprehensive Manchu-English Dictionary — the long-awaited revision of his 1978 Manchu-English Lexicon — is at hand.  Harvard Asia Center Publications announces that this title will be available by the end of January 2013.  Norman, who sadly passed away in July 2012, had been working for many years on this project.  The new Dictionary contains about one-third more entries than the Lexicon, and has extensive notes on pronunciation not found in the...
read more