Webmaster's Notes: Trends from the Blog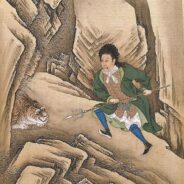 Over this past semester, MSG has featured fourteen blog posts by scholars actively using Manchu materials in their work. It is occasionally tempting to dismiss blogs as nothing more than trivia, but putting these independently conceived posts into dialogue reveals interesting trends for the future of Manchu studies.
The first thing to note is that Manchu studies has gone transnational. Many of our bloggers have focused their posts on the ways in which Manchu texts and peoples interacted in an increasingly globalized world. Why this transnational turn? Part of the explanation undoubtedly lies with the success of New Qing History. By treating the Qing as a Eurasian empire, scholars made Qing history into implicitly comparative history. In the field of economic history, Kenneth Pomeranz, Hamashita Takeshi, and Bin Wong have forced historians to reconsider the late imperial state in its international context.  The field increasingly reflects Sven Beckert's definition of transnational history, as one increasingly focused on the "whole range of connections that transcend politically bounded territories and connect various parts of the world to one another. Networks, institutions, ideas, and processes constitute these connections, and though rulers, empires, and states are important in structuring them they transcend politically bounded territories."[1] For young scholars working on Manchu today, a methodology that neglects the transnational nature of Manchu rule appears to be missing fundamental aspects of the Qing regime.
Our posts also indicate the emergence of a Manchu-centered book history. Many of our authors are concerned with the production and circulation of Manchu books. We still know remarkably little about Manchu reading practices, authorship, and book usage. Our most popular post, "The Cost of a Manchu Dictionary in the Guangxu Period," by Mårten Söderblom Saarela, indicates a broader interest in the impact that the Manchu book had on textual practices during the Qing. Mario Cams' post, "The Journey of a Manchu Map," represents the best of both book history and transnational history. His discussion charts the movement of a map from Manchu manuscript to Russian archives via Paris, demonstrating that Qing knowledge and Qing books circulated on a greater scale than has been previously appreciated.
The final notable trend were discussions of Manchu at the borders of empire (still very much transnational). Eric Schluessel and David Porter wrote about the ways in which New Qing methodologies have inspired scholars to ask questions about the interaction between the imperial center and local society. Manchu was the language of administration in both the northeast and northwest, and many of the archival materials detailing this relationship have barely been utilized.
Reflecting on our series of posts reveals the ways in which young scholars are proceeding to pursue agendas of research that have emerged from the methodological shifts precipitated by New Qing History. Our initial plea for blog posts asked authors to "contribute anything of interest related to the field of Manchu studies." While context certainly matters (most of our authors have been based at Harvard for the last semester and many of their posts were written for a Manchu studies seminar), the kernel of dissertation research in each of these posts portends exciting new developments in the near future for Manchu-Qing studies.
We hope that more authors will contribute to posts for a new series this fall. Once again, these posts need not be strictly scholarly. We encourage a wide range of contributions on any topics in Manjuristics that may interest members of our community.
erei jalin gingguleme alibuha
Devin Fitzgerald
Harvard University
Website editor
---
[1]  C.A. Bayly, Sven Beckert, Matthew Connelly, Isabel Hofmeyr, Wendy Kozol, and Patricia Seed, "AHR Conversation: On Transnational History," The American Historical Review 111.5 (2006): 1446.