April in Review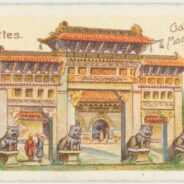 The end of the semester always makes April pass by too quickly. If you find yourself with any extra time, we hope you can peruse our blog offerings from the past month.
We began April with a fascinating post by David Bropy on Nushirvan Yavshef's journey to the Ili river valley, where he found himself "A Tartar among the Tartars." His account is full of interesting details about Sibe reading habits and material conditions.
Next, Mario Cams brought us across Eurasia to travel with maps produced in Lakcaha jecen de takūraha babe ejehe bithe ('Book recording the sending of an embassy to remote regions,' orYiyulu 異域錄 in Chinese).  The story is remarkable, and his comments on the circulation of the map at the end of the "The Journey of a Manchu Map" make us excited for his eventual dissertation.
In our third post, Gregory Afinogenov introduced us to the Manchu works of Aleksei Osipovich Ivanovskii. This post i s further evidence that Molledorf was correct: "Nowadays no excuse; for students of Manchu … a knowledge of Russian has become a conditio sine qua non."
Our final post by Mårten Söderblom Saarela,  "Thoughts on the Rise and Fall of Manchu Language", introduced  Jean-Pierre Abel-Rémusat views of Manchu to make an instructive comparison between the evolution of Manchu and early modern French. Manchu, like many European languages, was enriched by the growth of the early modern state.
That does it for April. Don't forget to check out our news and the interview with Stephen Wadley. This month we expect to finalize our non-profit status and open our bank account. If all goes well, you can look forward to a big announcement about Saksaha!