Living and Dying at Peking's Russian Ecclesiastical Mission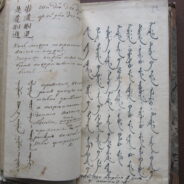 Gregory Afinogenov
Ph.D. Candidate
Harvard University

In the Archive of Orientalists at the Institute of Oriental Manuscripts in St. Petersburg, there are two volumes of manuscript exercise books composed by Russian students learning Manchu and Chinese at the Russian Ecclesiastical Mission in Peking in the 1780s and '90s. These are fascinating historical documents. On the one hand, they give us a sense of what studying these languages was like for foreigners, the texts they used, and the pace at which they worked; on the other, they tell us something about the students themselves.
The images here are of Anton Vladykin's 1786 translation into Russian of a Manchu passage, doubtless from a translated Chinese historical text, in which King Wen of Zhou and his advisor Jiang Ziya (referred to here by his title Taigong) discuss the ruler's solicitude for his subjects. This is only one of dozens of texts in these volumes, translated from the Chinese or Manchu or both, including a wide range of classical texts, philosophical as well as historical.
In the early 19th century, Vladykin would become Russia's foremost Sinologist and Manchu scholar, author of a Manchu grammar and abecedarium "for the benefit of Russian youth."  His collection in the same archive contains a translation of the conversational Manchu primer Qingwen qimeng bound together with a translated San zi jing 三字經 and Ming xian ji 名賢集. Unquestionably, given the prevalence of these texts in the Qing educational system, it was as a student that he encountered them for the first time. Indeed, the second volume opens with a translation from the Qingwen qimeng 清文啟蒙, composed by Egor Solertovskii in 1784. (Amusingly, both Vladykin and Solertovskii render the Manchu form of address "age" as "Братец!"—something like a gentler Russian version of "Bro!"—which, while capturing the literal meaning of the word, doesn't quite convey the respectful connotations.)
But who were the rest of the students, and what happened to them? A brief and unsettling note tucked into the back of the second volume gives a snapshot of Vladykin and his comrades:
These students were among those who completed their schooling at the Trinity-Sergius Monastery as scholars of Damascene and Apollos:

Ivan Filonov and Egor Solertovskii really were educated people; but in addition to other reasons, it seems to me, due to the inadequacy of their leader, they fell into weakness and died there in Peking.
Aleksei Popov, a student of Rhetoric, also, falling into weakness, died.
Filonov died in 1790
Solertovskii during the night of his departure back to his homeland and
Popov two days later at the 2nd station from Peking
Hierodeacon Izrail died a few days before the departure from Peking, and the leader himself at the 3rd station from Peking
Also on the road back, Archimandrite Ioakim, of Polish origin.

Only 3 people returned:

Hieromonk Aleksei, who was an Archimandrite in Novgorod.
Verger Semion Sokolovyi, who was a bad priest–
Of the students, Anton Vladykin after returning to Russia was an aulic councillor and a bearer of the Order of St. Vladimir, 4th degree.
"Falling into weakness" is not a familiar medical euphemism, but it is not hard to tell what it might have meant. Throughout the eighteenth century, the Mission was plagued by alcoholism and infighting (sometimes involving knives) and in many cases the behavior of Russian clerics became so embarrassing that it must have seriously impaired Russian-Qing diplomacy. For many students — who were sent to China whether or not they really wanted to go — the experience must have been a trying one. A note in the back of the first volume says simply, "For smart missionaries, Peking is a wonderful school, heaven; for ignorant ones, it is a prison of torment—hell."