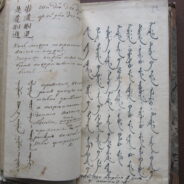 Gregory Afinogenov Ph.D. Candidate Harvard University In the Archive of Orientalists at the Institute of Oriental Manuscripts in St. Petersburg, there are two volumes of manuscript exercise books composed by Russian students learning Manchu and Chinese at the Russian Ecclesiastical Mission in Peking in the 1780s and '90s. These are fascinating historical documents. On the one hand, they give us a sense of what studying these languages was like for foreigners, the texts they used, and the pace at which they worked; on the other, they tell us...
read more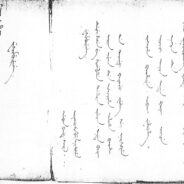 For some time anticipation has been building over the publication of a major collection of Manchu-language documents on Xinjiang, Qingdai Xinjiang Manwen dang'an huibian 《清代新疆满文档案汇编》.  The good news is that this massive collection, drawn from the holdings of the First Historical Archives in Beijing, was published in December 2012, and copies are now beginning to reach US libraries.  The publication of these materials promises to revolutionize the study of Qing Xinjiang. Published by Guangxi Normal University...
read more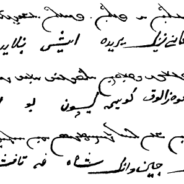 Eric T. Schluessel Ph.D. Candidate Harvard University Historical scholarship on Qing Xinjiang (East or Chinese Turkestan) has experienced something of a florescence in the Anglophone world since the publication of Millward's 1998 Beyond the Pass, and figures importantly in most accounts of the New Qing History, with Perdue's China Marches West earning particular attention.  However, despite the NQH priority on Manchu-language sources, advances in Manjuristics have not yet made themselves felt in this specialized field. There are plenty of...
read more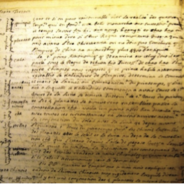 Mario Cams Ph.D. Candidate KU Leuven Like some of the other missionaries at the Qing court in the early 18th century, the French Jesuit Joseph-Anne-Marie de Moyriac de Mailla (1669-1748) studied both Chinese and Manchu.  He is said to have started studying Manchu rather late in life, at the age of fifty.[1] Soon after, he started translating into French large parts of the Han-i araha tung giyan g'ang mu bithe, a Manchu-language translation and revision of the Tongjian gangmu 通鉴纲目 ("Outline and detail of the...
read more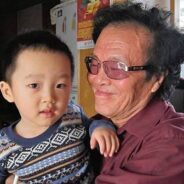 On January 30, the LA Times reported on the reemergence of Manchu identities in the PRC. To read the full article visit their website.
read more